We are an industry engaged in mining and processing of niobium and phosphates, essential minerals for the development of the global industry and the growth of agriculture in Brazil.
We act as a subsidiary of China Molybdenum (CMOC), a Chinese company with a diversified assets portfolio; CMOC Brazil International believes in and invests in sustainable business growth, through synergy among assets, operational excellence, innovation and quality regarding products and relationships.
Mission, Vision and Values
Our mission
To be a unique model for the mining industry, through excellence in the acquisition and sustainable transformation of natural resources, promoting trust and satisfaction in relationships, and the development of society.
Our vision
Increase our participation in the Brazilian fertilizer market and consolidate our position as a relevant competitor in the global niobium market, maximizing synergies among assets, operational excellence, innovation, product and relationships quality.
Our values
Safety

Integrity

Respect

Autonomy with Responsibility

Ambition
Growth Strategy
The company's strategy in Brazil is to continue to be a leader in health, safety and environment, to seek strategic growth, to boost operational efficiency, to solidify our market position in Brazil regarding Phosphates and to expand the Niobium to new markets.
CMOC in the World

CMOC in Brazil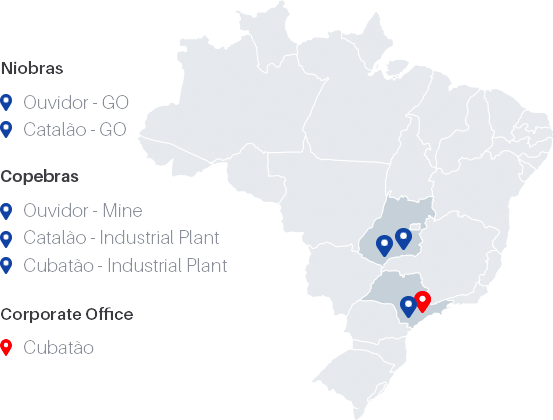 Here are
some CMOC figures
More than 4,000 employees and contractors
228,5 million reais in EBITDA in 2018
3 industrial plants 2 mines and 1 corporate office
2,72 billion reais of gross revenues in 2018